Steckbrief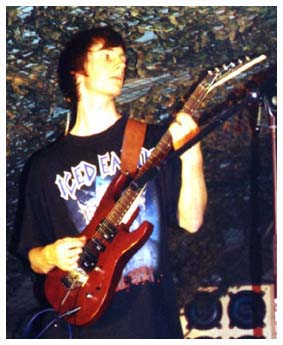 Name: Thilo Uttendorfer
Geburtstag: 17.01.1981
Student
Status bei Sengaya: Ehren-/Gründungsmitglied auf Lebenszeit; Homepage,
früher Gitarre, selten auch Song-Writing,
Wohnhaft in Furtwangen / Köngen



Lieblingsgitarristen:
Chris Oliva
John Petrucci
Daniel Gildenlöw
Jon Schaffer
Lieblingsmusiker:
Mike Portnoy
John Myung
Bruce Dickinson
Hansi Kürsch
Freddy Mercury
Lieblingsbands
Iced Earth
Dream Theater
Savatage
Blind Guardian
Iron Maiden
Queensrÿche
Queen
Alben für die Ewigkeit
Iced Earth - Stormrider
Iron Maiden - The Number Of The Beast
Dream Theater - Images And Words
Savatge - Gutter Ballet
Blind Guardian - Imaginations From The Other Side
Queensrÿche - Operation: Mindcrime
Judas Priest - Painkiller
Body Count - Bodycount
Die besten Livealben
Savatage - Ghost In The Ruins
Iced Earth - Alive In Athens
Geheimtips Alben/Bands
Pain Of Salvation (The Perfect Element, Remedy Lane)
Psychotic Waltz (Into The Everflow)
Shadow Gallery (Tyranny)
Songs für die Ewigkeit
(ertsmal alle Lieder der Alben aus der Rubrik "Alben für die Ewigkeit")
Dio - Holy Diver
Annihilator - Alison Hell
Shadow Gallery - New World Order
Psychotic Waltz - Freakshow
Tool - Schism
Savatage - Chance (und viele, viele andere)
Iron Maiden - Fear Of The Dark
Queen - The Prophet's Song
Beste Konzerte
BYH 2001: Savatage, Judas Priest, Dee Snider, Uriah Heep
Dream Theater, 7.10.2000, Filharmonie Filderstadt
Iced Earth, Februar 2002, LKA Stuttgart
Pain Of Salvation, Februar 2002, Böblingen
BYH 2002: Nevermore
peinliche CD's, die in meinem Regal stehen
Ich war jung und naiv: (kleiner Auszug) Maxi Dance Sensation 666, 2Unlimited, Ace of Base, Das Modul - Computerliebe, ...
Diese Songs retten/zerstören jede Party
"We're not gonna take it..."
Diese Band sollte sich "reunionieren"
Psychotic Waltz
Lieblingsfilme
Star Wars
Austin Powers
Dei Mutter Sei Gesicht (hat einen nicht mehr zu korrigierenden Sprachfehler bei mir hinterlassen...was gucksch du so schlimm?)
Braindead
Ali G In Da House (Kann auch Sprachfehler verursachen! Respect!)
Serien/TV
Eine schrecklich nette Familie
The Simpsons
Road Runner (kommt das noch irgendwo???)
Meine Gründe für einen Amoklauf
Ein bekannter Politiker aus Bayern wird demnächst Bundeskanzler... (ich bin sehr gefährdet!)
Bruce Dickinson, Rob Halford, Jon Schaffer und Mike Portnoy gründen eine Boyband...
Platz für Philosdophien über Sengaya, Metal, Satan und die Welt ...
Danke für die coolen Konzerte und die geile Zeit mit Sengaya!
Und jetzt das ganze "true": Thank you for the glourious gigs where steel met steel and thank you for the time with Sengaya when we traveled from kingdom to kingdom to gain eternal (jetzt wär mir doch fast nicht mehr dieses wort eingefallen, aber ein kurzer griff zur Rhapsody CD rettete diesen grandiosen Satz!) glory.
Am liebsten knipps' ich mir die Lichter aus mit...
<PROLET> allem was kickt und abdichtet! </PROLET>